Choose the plan that suits you
Try Convertize Starter plan FREE for 14 days • Change plans at any time • No credit card required
Save 17% with annual billing
free
30 000 visitors per month

30 Marketing Tactics

Predicitve Notifications

We use your site's real-time data to create notifications that attract your users' attention and persuade them to act.

Personalisation

Increase customer engagement by offering your visitors tailored, relevant content.

Convertize Branding
starter
50 000 visitors per month

100 Marketing Tactics

Predicitve Notifications

We use your site's real-time data to create notifications that attract your users' attention and persuade them to act.

Personalisation

Increase customer engagement by offering your visitors tailored, relevant content.

No Branding
team
300 000 visitors per month

250 Marketing Tactics

Predicitve Notifications

We use your site's real-time data to create notifications that attract your users' attention and persuade them to act.

Personalisation

Increase customer engagement by offering your visitors tailored, relevant content.

No Branding
enterprise
5 000 000 visitors per month

250 Marketing Tactics

Predicitve Notifications

We use your site's real-time data to create notifications that attract your users' attention and persuade them to act.

Personalisation

Increase customer engagement by offering your visitors tailored, relevant content.

No Branding
Non-profit? Contact us for special pricing
All Convertize plans offer easy integration
with the tools you're already using.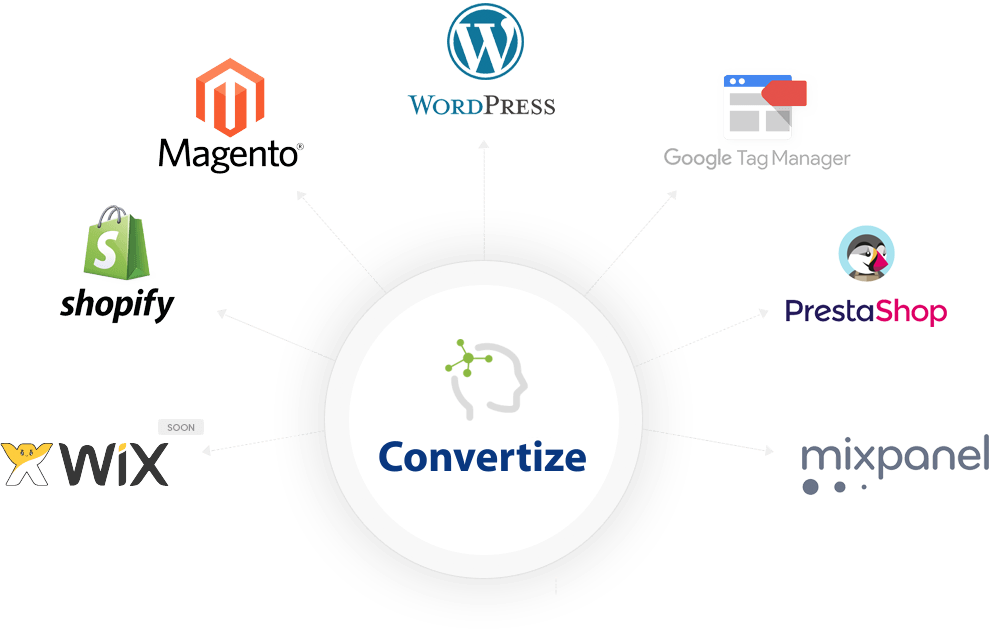 Get on-demand coaching from our experts
We offer on-demand coaching by the hour to use when you want, how you want.
The couching is flexible and can be customised to your needs.
On-demand coaching
I would like 5 hours of on demand coaching
Not sure how many hours of coaching you need?
Get coaching by the hour
Use it whenever you need it
Use it how you want - or let us advise
Here are a few examples of the coaching services we offer:
for Agencies
Assistance with drafting proposals
Distinguish yourself from your competitors by effectively integrating new optimisation services in your service package.
Participation with conference calls
Our Conversion experts will take part in any client conference calls to understand the needs of your clients.
Assistance with project delivery
Our team will be on hand at every stage of your project to offer help and guidance and ensure smooth delivery.
for eCommerce & SaaS sites
Recommendation of specific tactics
Our team will recommend the most effective persuasion tactics for each of your campaigns in order to maximise your turnover.
Identification of quick wins
Your optimisation coach will teach you how to identify low hanging fruit for a quick revenue boost.
Prioritisation of optimisation actions
You will learn how to prioritise actions and manage your focus effectively in order to deliver each project on time.
See what Convertize can do for your business.
Compare the features for our different plans.
Free
Starter
Team
Enterprise
Enterprise
/ month
Let's talk
Enterprise
/ month
Let's talk
Number Of Websites
Unlimited
Unlimited
Unlimited
Unlimited
Number Of Clients
Unlimited
Unlimited
Unlimited
Unlimited
Number Of Collaborators
Unlimited
Unlimited
Unlimited
Unlimited
Number of visitors per month
30 000
50 000
300 000
5 000 000
Persuasion Tactics
30
100
250
250
6-Step Structured Process
Traffic Allocation Per Convertize
Tests On Protected Pages (Behind Login)
Device Targeting (Mobile, Tablet, Desktop)
New vs. Returning Visitors
Google Analytics Integration
We want to make Consumer Psychology easily accessible to every online business.
With Convertize, we offer a solution that can improve the profitability of any online marketing campaign.
Analytics tools tell you what visitors have done, but they don't tell you what's missing to convince them to sign up or buy on your website. Read more
Building and testing optimisation hypotheses can be long and complicated work. A/B testing tools often produce complicated data that only statisticians or mathematicians can understand and effectively analyse. Also, these tools increase the risks taken by marketing teams when using incorrect settings or choosing random hypotheses.
Creating Convertize, we have spent a lot of time simplifying things so that marketing teams can grow their revenues more quickly - by directly applying the best persuasion tactics on every page of their website.
For every single tactic, we have analysed and documented the scientific research and consumer psychology behind it. We have also identified the best websites that use these tactics successfully on a daily basis.
Convertize is a unique and ideal solution that compliments any branding or acquisition campaign on networks such as Adwords, Facebook or Outbrain.

Philippe AIME - CEO of Convertize
Frequently Asked Questions