Home
A/B Testing Made Simple
The easiest, most powerful way to test anything on your website.
Increase sign-ups, sales or subscriptions with simple tests.
So easy anyone can use it
Smart Features take care of everything
Flexible pricing to suit any business
Try now for FREE
Increase Your Conversion Rate
December 2019
A winter sports retailer increased their conversion rate from mobile traffic on a category page by 37.5% with Convertize
Test: Persuasive Notifications
+37.5%
Get more button clicks
January 2020
A Customer Service Software provider Increased the CTR on a key webpage by 300% in just one month with Convertize
Test: Changing the button text
+300%
Convertize makes A/B testing easy and
affordable for any online business
An A/B testing tool
Built for humans
With Convertize, you can edit any page and test your changes without touching a line of code.
During your tests, Smart Features work behind-the-scenes to make them fast and effortless.
Highly-rated
Smart editor
Because of its simple page editor and user-friendly dashboard, Convertize is consistently one of the most highly-rated tools on software comparison sites.
Join over 800 happy teams using Convertize

SMART FEATURE - AUTOPILOT
Create, launch, relax
with Autopilot
Autopilot manages your traffic for you. Whilst your team is busy producing content, Autopilot maximises your revenue by sending more traffic to the best-performing versions of your webpage. That way, your revenue is safe and your tests reach significance fast.
SMART FEATURE - LIGHTNING MODE
Get Faster Loading
With Lightning Mode
When A/B testing tools are too slow, they can cause "Page Flicker" or "FOOC" (Flash of Original Content). The unique Pixel engineered by Convertize is lighter than the ones used in other A/B testing tools, which means it reaches loading speeds up to 17.2 times faster.
SMART FEATURE - STATISTICS ENGINE
Avoid Errors With
The Statistics Engine
The Convertize Statistics Engine – combining two kinds of statistics – gives you clearer results, faster than other tools. Not only can you see which version of your webpage is best, you can also see how long an experiment will need to run to reach statistical significance.
Convertize works with the tools
you already use
Convertize integrates with website builders and analytics platforms, meaning it's even easier to
start testing your webpages.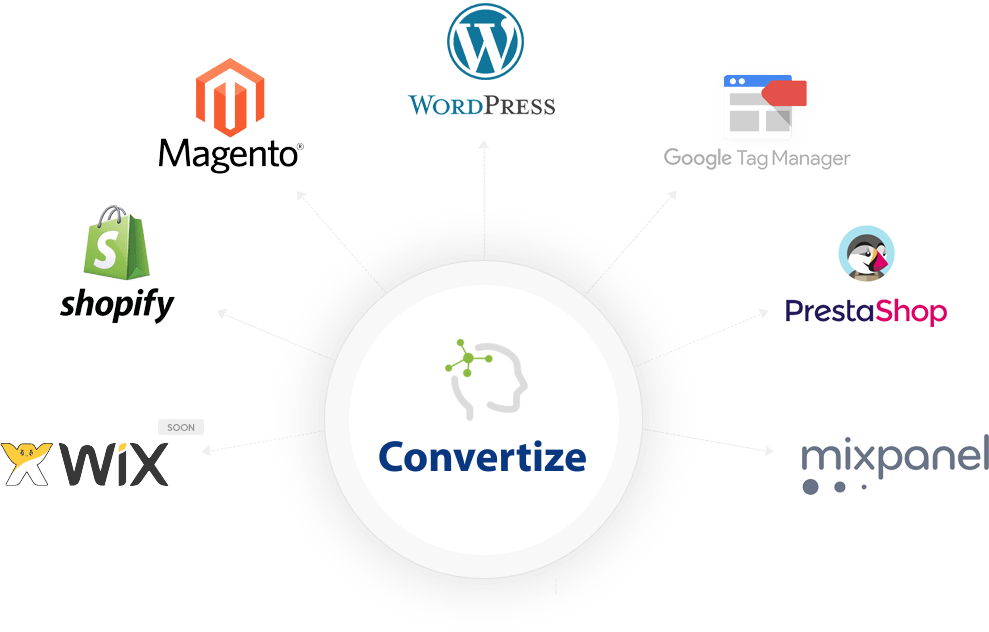 Ready to launch your first A/B test?
Convertize CRO experts are available to help you throughout your free trial