Why Marketers Choose Convertize over Kameleoon
Did you search Google for "kameleoon alternative", "kameleoon price", or "kameleoon competitors"?
#1 Kameleoon alternative, without the high costs
With Convertize, you can start A/B Testing for as low as $49/month.
Kameleoon typically charge over $800+ for their entry package. Expect to pay at least $7'000/year with any Kameleoon plan.
At Convertize, we don't have an exclusive Entreprise price strategy like Kameleoon: with numerous Salespeople, expensive office spaces and marketing expenses that we need to re-bill to our clients.
We don't charge setup fees
There's no mandatory training
There are no hidden costs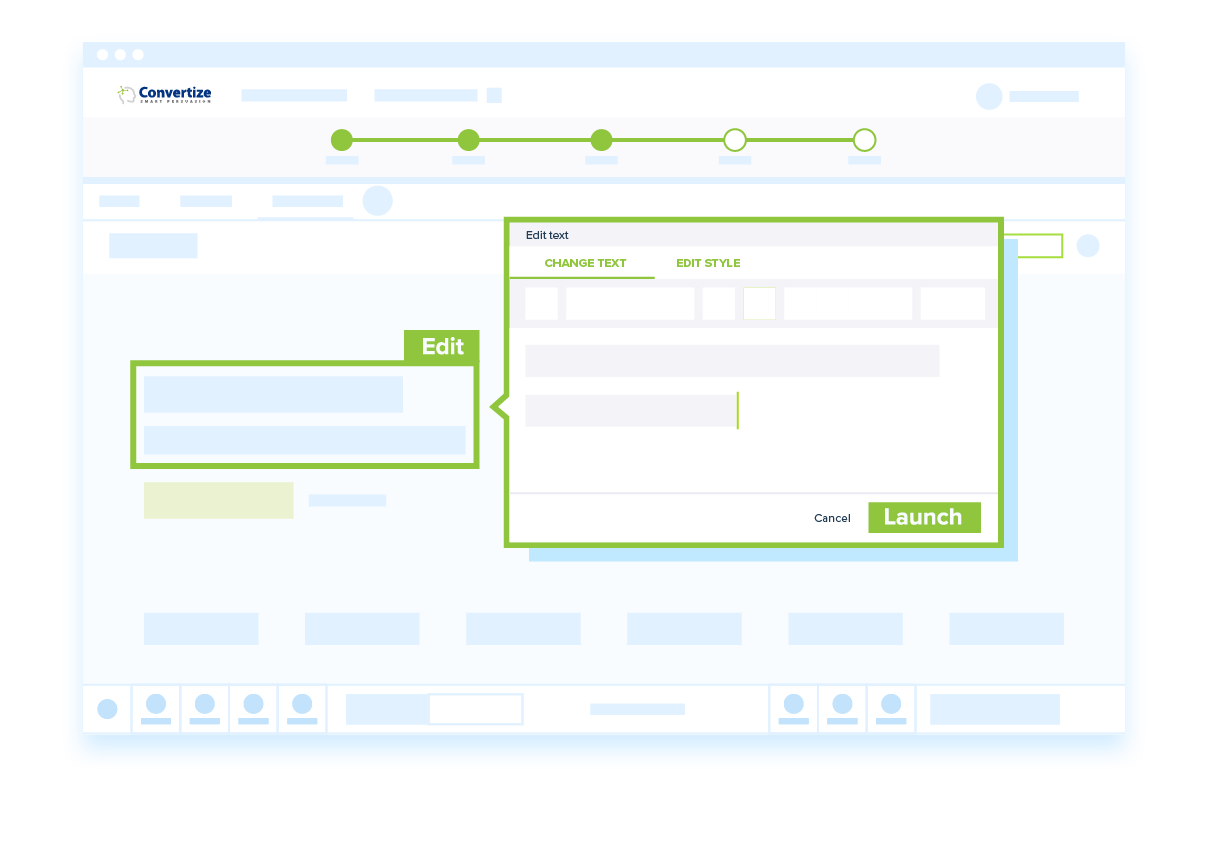 2. UI-friendly alternative to Kameleoon
While our A/B testing software is more affordable than Kameleoon, it provides a very intuitive visual editor – the Smart Editor –  so you create new versions of a page in minutes:
Change text, colours, product images, call-to-action buttons, banners and more…
No knowledge of JavaScript, CSS, or HTML is required
Any team member can create A/B tests
Many teams and agencies have already switched
from Kameleoon to
Convertize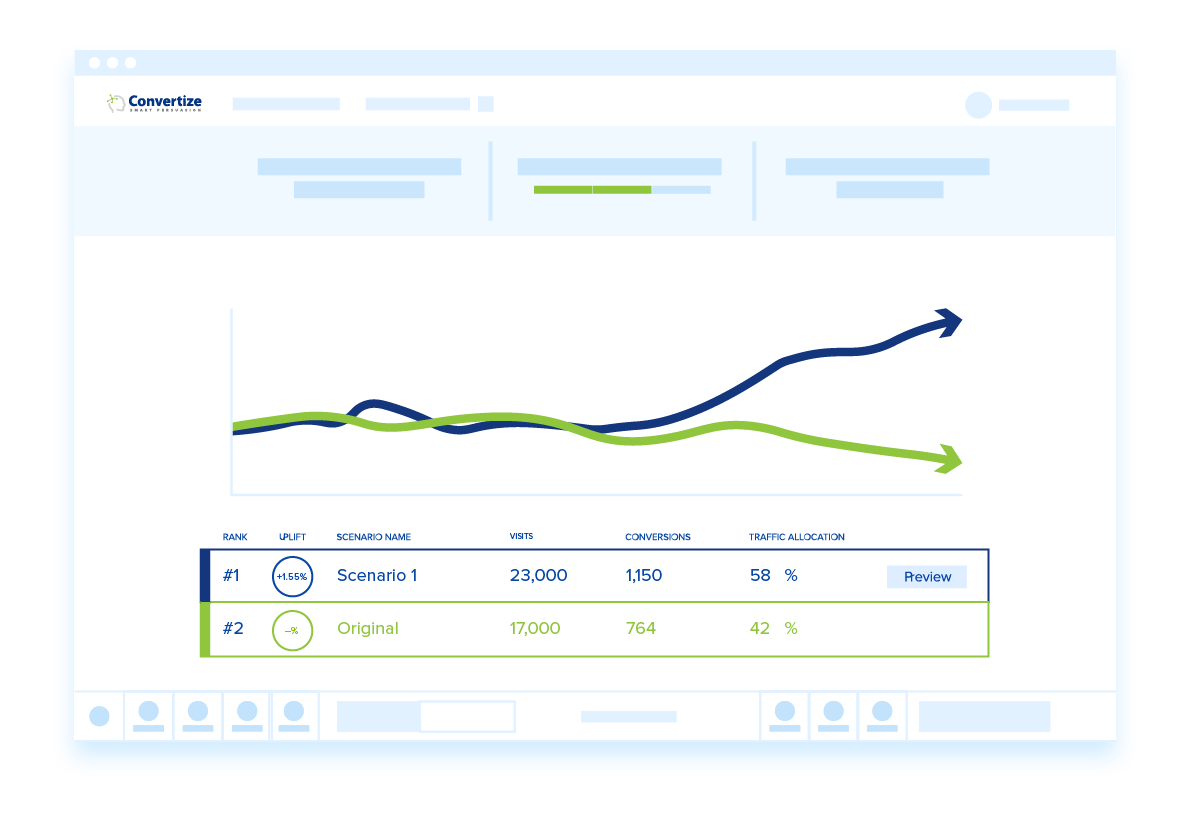 3. Hassle-free alternative to Kameleoon
Convertize offers unique features that make A/B testing easier:
The Autopilot distributes traffic automatically and sends visitors to the best-performing variation
Hybrid statistics combine Bayesian and Frequentist calculations to identify significant results as quickly as possible and predict how many days an experiment will need
The A/B Testing checklist identifies and prevents any targeting or tracking errors. This means you can launch tests with complete peace of mind
Our Conversion Rate Experts are available at any time on live chat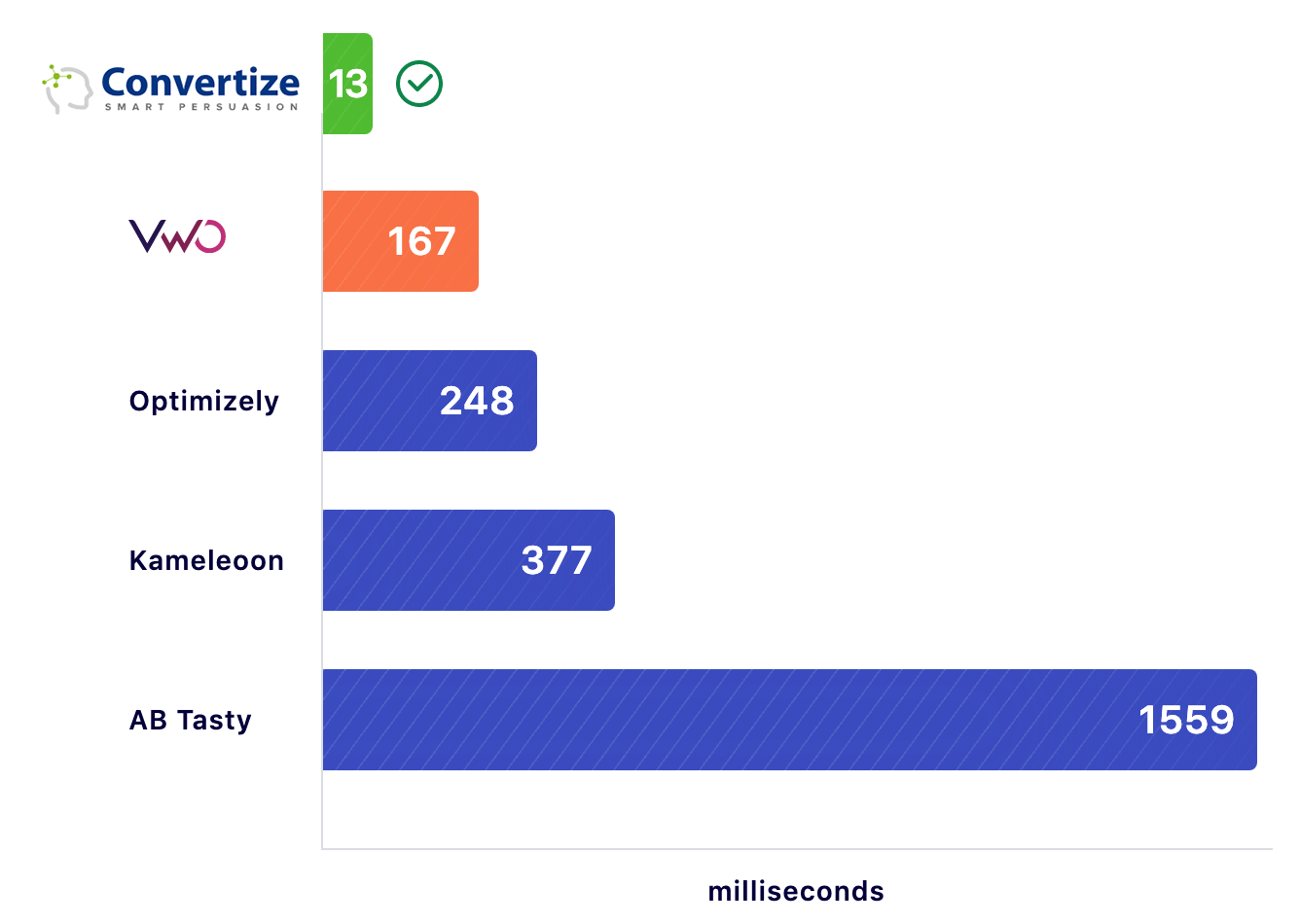 4. Flicker-free alternative to Kameleoon
This image is a benchmark made by VWO and visible on their homepage. This is how we compare.
While Kameleoon is a good performer with loading speed, Convertize is still 29x faster than Kameleoon.
Convertize launched very early a Lightning mode that makes our AB Testing tool faster than other providers and avoids loading speed issues while A/B Testing.
Convertize vs Kameleoon pricing & features
See how Kameleoon pricing and features compare with Convertize
| | | |
| --- | --- | --- |
| Pricing | from $49/month | from $800/month |
| No. of Domains | Unlimited | Unlimited |
| A/B Testing | | |
| Split URL Testing | | |
| Loading Speed | 0.013s | 0.377s |
| Dynamic Traffic Allocation | Autopilot | Standard Multi-armed Bandit |
| Hybrid Statistics | | |
| WYSIWYG Editor | SmartEditor | |
| Multivariate Testing | | |
| Personalization | | |
| Web Analytics Integrations | | |
| Online support by Chat | | |
Frequently Asked Questions
What does my free 14-day trial contain?
Your free trial will contain all of the features listed in our 'Solo' plan, including:
Autopilot
SmartEditor™
Hybrid statistical engine
20,000 visitors tested
What happens when my 14-day free trial expires?
Once your 14-day free trial has ended, your account will simply become inactive. You can choose a paid plan and pick up where you left off (your experiments and data will be waiting for you) or wait and make a decision later. There's no pressure to join, and no automatic subscription.
How are my unique monthly visitors counted?
Your unique monthly visitor count is the number of individuals participating in your active experiments or variations. Unique visitors are only counted once, regardless of how many times they visit your website.
Do you charge monthly or annually?
All plans are available on a monthly or annual basis. It's your choice!
Do you offer MVT (Multi-Variate testing)?
We don't offer Multivariate testing since it is only appropriate for those with exceptionally high traffic (more than 10 million visitors per month).